....
L'ARCHE IN THE WORLD
L'Arche is an international federation of faith-based communities, creating homes and day programs with people who have developmental disabilities.
The first community was founded by Jean Vanier in Trosly, France in 1964. Now there are 150 L'Arche Communities in the world.
..
L'ARCHE DANS LE MONDE
L'Arche est une fédération internationale de communautés confessionnelles, qui créé des foyers et des programmes de jour avec des personnes ayant une déficience intellectuelle.
La première communauté a été fondée par Jean Vanier à Trosly en France en 1964. Maintenant il y a 150 communautés de l'Arche dans le monde.
....
....
L'ARCHE CANADA
L'Arche has existed in Canada since 1969 when the first community, Daybreak, was founded in Richmond Hill. There are now 29 communities spread across Canada from Vancouver Island to Cape Breton which offer 200 homes and work programs to adults with intellectual disabilities.
..
L'ARCHE CANADA
Depuis ses débuts au Canada en 1969, L'Arche a bâti plus de 200 lieux de vie et de travail avec des personnes vivant avec une déficience intellectuelle. Les 29 communautés de L'Arche au pays s'étendent du Cap Breton jusqu'à l'île de Vancouver.
....
....
L'ARCHE OTTAWA
L'Arche Ottawa began in the national capital region in 1972. Today we are 30 core members and 18 assistants living in six homes. We are supported by a team of support persons and volunteers.
..
L'ARCHE OTTAWA
La communauté de L'Arche Ottawa a été fondée en 1972, et compte à ce jour 30 membres de coeur et 18 assistants qui vivent ensemble dans six foyers. Ils sont entourés d'une équipe de soutien et bénévoles.
....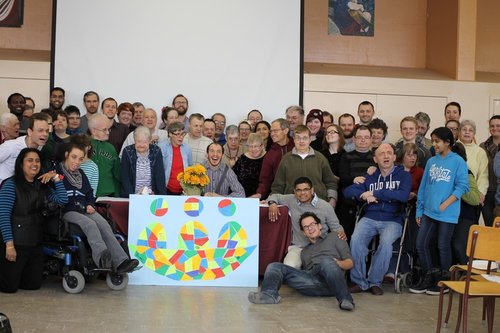 ....
Find out more about
..
Pour en savoir plus
....
..